By John McCrae
An uphill path, sun-gleams between the showers,
Where every beam that broke the leaden sky
Lit other hills with fairer ways than ours;
Some clustered graves where half our memories lie;
And one grim Shadow creeping ever nigh:
And this was Life.
Wherein we did another's burden seek,
The tired feet we helped upon the road,
The hand we gave the weary and the weak,
The miles we lightened one another's load,
When, faint to falling, onward yet we strode:
This too was Life.
Till, at the upland, as we turned to go
Amid fair meadows, dusky in the night,
The mists fell back upon the road below;
Broke on our tired eyes the western light;
The very graves were for a moment bright:
And this was Death.
Poet Bio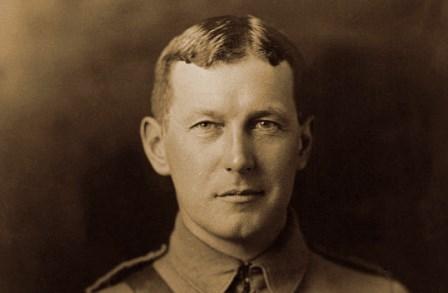 Born in Guelph, Ontario, Canadian poet, soldier, and physician John McCrae earned his undergraduate and medical degrees at the University of Toronto, where he received the Gold Medal. McCrae's well-known poem "In Flanders Fields" memorializes the April 1915 battle in Belgium's Ypres salient. For 17 days, McCrae tended those injured in the battle. The poem, written after the death of a close friend, was first published in Punch magazine and led to the adoption of the poppy as the Flower of Remembrance for the British and Commonwealth war dead.
See More By This Poet
More By This Poet
Get a random poem