By Hart Crane
Often beneath the wave, wide from this ledge
The dice of drowned men's bones he saw bequeath
An embassy. Their numbers as he watched,
Beat on the dusty shore and were obscured.
And wrecks passed without sound of bells,
The calyx of death's bounty giving back
A scattered chapter, livid hieroglyph,
The portent wound in corridors of shells.
Then in the circuit calm of one vast coil,
Its lashings charmed and malice reconciled,
Frosted eyes there were that lifted altars;
And silent answers crept across the stars.
Compass, quadrant and sextant contrive
No farther tides … High in the azure steeps
Monody shall not wake the mariner.
This fabulous shadow only the sea keeps.
Hart Crane, "At Melville's Tomb" from The Complete Poems of Hart Crane by Hart Crane, edited by Marc SImon. Copyright © 1933, 1958, 1966 by Liveright Publishing Corporation. Copyright © 1986 by Marc Simon. Used by permission of Liveright Publishing.
Source: The Complete Poems of Hart Crane (Liveright Publishing Corporation, 2001)
Living
Mythology & Folklore
Nature
Poet Bio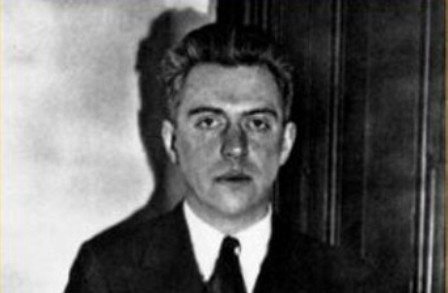 Born in Garrettsville, Ohio, Hart Crane left his unhappy home for New York before his last year of high school. He planned — against his father's wishes — to pursue a career as a poet. Crane became part of the poetry scene in Greenwich Village where he produced his most important work, the book-length poem The Bridge. At age 33 Crane committed suicide by jumping from the deck of a steamship en route from Mexico to New York.
See More By This Poet
More Poems about Living
Browse poems about Living
More Poems about Mythology & Folklore
Browse poems about Mythology & Folklore
More Poems about Nature
Browse poems about Nature
Get a random poem